U.S. stocks have been stricken with a case of the Mondays for the first time in four months.
The S&P 500
SPX
finished lower on Monday, as neither strength in mega-cap technology stocks nor a pullback in Treasury yields managed to spare the large-cap index from a fifth straight daily loss, the longest losing streak for the index since December, according to Dow Jones Market Data.
In addition to cementing the worst stretch for stocks this year, Monday's session also marked the first time that the S&P 500 has started the week with a loss after 15 straight Mondays in the green. This streak of "green Mondays" is the longest on record for the index going back to 1928, according to FactSet data analyzed by Ryan Detrick, chief market strategist at Carson Group.

This surpasses an 11-day streak that ended in June 2005 and a 10-day streak that ended in July 2020, Detrick's data show. The S&P 500 was launched in 1957, but FactSet uses historical data to represent the index's performance prior to its formal creation.
Things were looking close heading into the close, but the S&P 500 slipped into the red during the final 20 minutes of trading, dashing hopes that the record-setting streak might continue for a 16th week.
Prior to markets opening on Monday, the streak had caught the attention of a handful of equity analysts, including a team at Bespoke Investment Group who noted that Mondays have been an indispensable driver of this year's gains.
"As far as Mondays are concerned, the streak has been significant in terms of this year's gains for the market.  While the S&P 500 ended last week with a [year-to-date] gain of 10.02%, without Mondays, it would actually be down fractionally on the year," the Bespoke team said in a note shared with MarketWatch earlier.
"The 'Magnificent Seven' [tech stocks] have gotten all the credit for carrying the market this year, but 'Magnificent Mondays' have been just as important," the team said.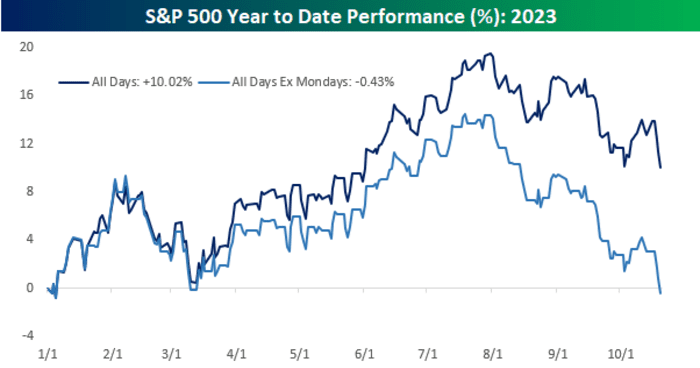 Instances of U.S. stocks consistently outperforming on Mondays are extremely unusual, Detrick noted. In fact, typically the opposite is true.
"To sum up how odd this year has been, historically Monday is the worst day of the week. But in 2023 we go and have the longest win streak in history," he noted.
The Dow Jones Industrial Average
DJIA
also finished lower on Monday, shedding nearly 191 points, or 0.6%, to 32,936.41. The Nasdaq Composite
COMP,
however, managed to post a solid gain, rising nearly 35 points, or 0.3%, to 13,018. 33. The S&P 500 finished 7.12 points, or 0.2%, lower at 4,217.04. The S&P 500 has now finished below its 200-day moving average for two consecutive sessions, the longest such streak since March.
See: S&P 500 breaks below key level for first time since March as stocks erase summer gains