The numbers: Total bank lending rose by $22.8 billion to $12.1 trillion in the week ending June 14, the Federal Reserve reported Friday.
Total bank deposits, meanwhile, rose by $17.6 billion to $17.2 trillion in the same period. Deposits have fallen by $376 billion since early March, however.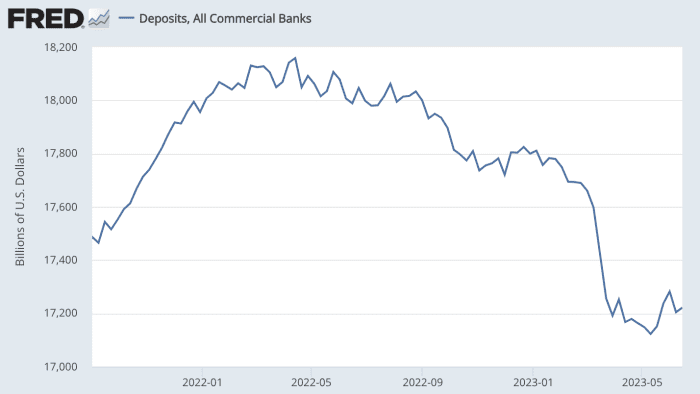 Key details: Commercial and industrial loans — a key economic driver — rose by $11 billion to $2.76 trillion. C&I loans hit a peak of $2.83 trillion in mid-March.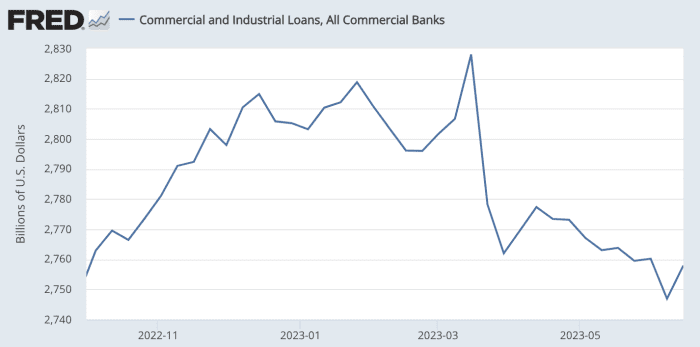 All figures are taken from the Fed's weekly survey and are seasonally adjusted.
Big picture: The possibility that bank lending could freeze up has been a concern since the collapse of Silicon Valley Bank in March and the subsequent contagion that took down two other regional banks. The sudden turmoil highlighted that banks are vulnerable in the wake of the Fed's swift tightening of monetary policy over the past 15 months.
Fed Chair Jerome Powell told the Senate Banking Committee this week that a shock like the collapse of Silicon Valley Bank usually leads to lower lending, but not immediately.
"There may be a bit more tightening in the pipeline. We don't really see evidence of it yet," Powell said.
Concern about possible weakness in bank lending was one reason Powell gave for the Fed's decision to hold interest rates steady last week after 10 successive hikes.
Market reaction: U.S. stocks
DJIA,
-0.65%
SPX,
-0.77%
finished lower on Friday, capping off the worst week since March. The 10-year Treasury yield
TMUBMUSD10Y,
3.741%
slipped to 3.74%.