Dear MarketWatch, 
I'm looking for a place that has year-round mild, sunny weather, ideally with low humidity, and is near or on the water. It should be relatively remote — something like a warm, sunny version of Alaska. I have $125,000 to spend. 
Esta 
Dear Esta,
There are definitely remote spots and small towns in the U.S. that meet your description of a warm, sunny version of Alaska. But add to that your desire to be near or on water, and it becomes harder to find an ideal place to escape to, especially one that's within your budget. You may need to make some adjustments in your requirements for year-round mild, sunny weather or your preference for low humidity.
If you're willing to accept some winter weather, recommendations from MarketWatch's Where to Retire tool include the small towns of North Hero, Vt., which is on Lake Champlain, and Penn Yan, N.Y., which is on one of the Finger Lakes. Both towns offer homes within your budget.
If you're firm on wanting warmer weather but can be flexible on the humidity factor, you have more choices. Oceanfront spots on the coasts are likely out of your price range, but the following small towns have river or lake access.
Washington, N.C. 
Sometimes called "Original Washington" or "Little Washington," this town in Beaufort County is located at the junction of the Tar and Pamlico rivers, the gateway to the Albemarle-Pamlico sounds, which make up the second-largest estuary on the East Coast. It takes about an hour and 40 minutes to drive to North Carolina's Atlantic Beach. 
If you're into old architecture, Washington features Victorian-era homes and commercial buildings, as well as antebellum structures that survived fires in 1864 and 1900. The population was under 10,000 as of 2021.
Yes, it will be humid in the summer.
Winchester, Tenn.
Located on Tims Ford Lake, this Franklin County town also has fewer than 10,000 residents. It boasts an Art Deco courthouse, a historic theater and quaint shops and restaurants, along with community events like concerts and wine tastings. But if people aren't your thing, you can also get away and just enjoy the lake.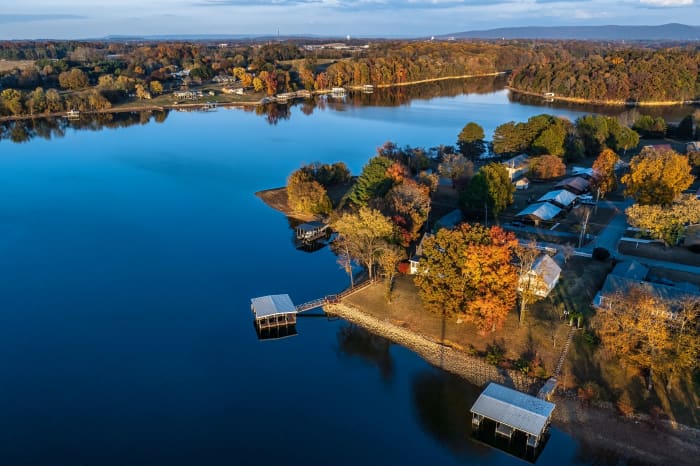 Camdenton, Mo.
This Camden County town is on the Lower Niangua arm of the Lake of the Ozarks, one of the country's largest manmade lakes. Camdenton has a population of about 3,700. It's also near Ha Ha Tonka State Park and Bridal Cave, known for its stalactite and stalagmite formations.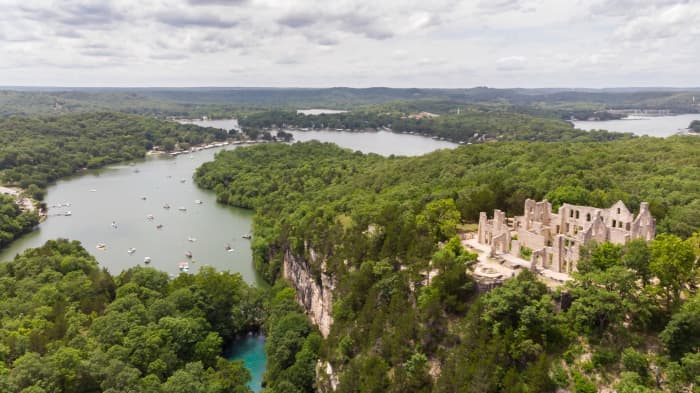 If none of these spots meets your needs, you might think about a houseboat that you could dock in the location of your choosing. It's possible to find a small used houseboat within your budget. Annual costs would include mooring fees — which can vary greatly depending on where you decide to dock — as well as things like insurance, fuel, maintenance and pump-out fees. 
Readers, where should Esta move? Leave your suggestions in the comments section.
More from MarketWatch's "Where Should I Retire" column:
We want to retire somewhere in North Carolina or South Carolina on $3,400 a month in Social Security — where should we go?
I want year-round outdoor living — dry summers and no snow — on $4,000 a month. Where should I retire?
'Work and a few vacations each year is all we've done for the past 34 years' — This couple has $2.6 million and no idea where to retire