Football legend Tom Brady wants back in the NFL.
After retiring at the end of last season, Brady is attempting to buy a minority stake in the Las Vegas Raiders franchise, but he's hitting some roadblocks.
Brady is seeking to buy 10% of the Raiders for $175 million, which would imply a team valuation of $1.75 billion — a significant discount from what NFL teams have recently been sold for, according to a report from the Boston Globe. For example, the NFL's Washington Commanders sold for $6 billion in 2023, and the Denver Broncos sold for $4.6 billion in 2022 to a Walmart
WMT,
-1.25%
heir.
It's probable that the team, which is owned by businessman Mark Davis, would want to be associated with a top athlete like Brady. A number of high-profile athletes are minority owners in teams, including Formula One's Lewis Hamilton and the Broncos, basketball star Dwayne Wade and the NBA's Utah Jazz, and baseball legend Derek Jeter and the MLB's Miami Marlins.
However, the other NFL owners have yet to approve Brady's purchase, which was first reported to be happening back in May.
"We're trying to work through," Indianapolis Colts owner Jim Irsay said about the proposed deal. "The number just has to be a reasonable number for purchase price for Tom, is the only thing. If reasonable value says that 10% should be $525 million, you can't pay $175 million."
With NFL owners not set to meet again until Dec. 12, Brady's potential ownership stake will be on hold until the end of the year.
Representatives for Brady, Davis and the NFL did not respond to MarketWatch's request for comment.
See also: Michael Jordan is now worth $3 billion. Here's what billionaire athletes have in common.
Davis and Brady do share common ownership of a team in another sport: the WNBA.
Davis owns the Las Vegas Aces, a WNBA team that Brady bought a minority stake in earlier this month. The Aces clinched their second consecutive WNBA championship on Wednesday over the New York Liberty. Brady and Davis were seen sitting together at one of the Aces games.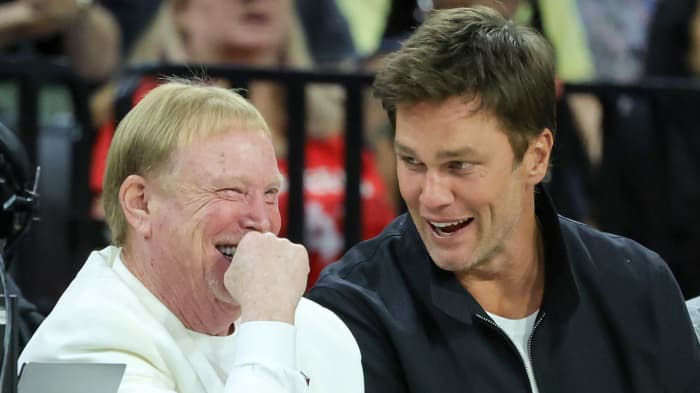 The Raiders, a team that moved to Las Vegas from Oakland in 2020, is valued at $6.2 billion, according to Forbes estimates.
Brady, 46, retired as the NFL's career leader in passing yards (89,214) and touchdowns (649). His $512 million fortune is made up of $332 million from his NFL checks over 23 seasons, with the rest coming from his off-field endeavors, including endorsements with Under Armour
UAA,
-1.36%,
Ugg, Upper Deck and DraftKings
DKNG,
-2.34%.
Brady also has a lucrative contract with Fox Sports to announce NFL games beginning in 2024. That deal is a 10-year contract worth up to $375 million, the largest in sports broadcasting history.
See also: Want to watch every NFL game this season? Here's how much it will cost you.