The bottle
Hell House Whiskey, $49.99
The back story
Looking for a bottle to add some "hellish" fun to your grown-up Halloween gathering? Here's an offering that comes from a legendary Southern rock band known for its gritty spirit.
Yes, Lynyrd Skynyrd has gone into the booze business.
Specifically, the band, whose roots go back to the mid 1960s in Jacksonville, Fla., has partnered with Bespoken Spirits, a company that is moving into creating artist-themed whiskies. Lead singer Johnny Van Zant, who eventually reformed the group after the 1977 plane crash that took the life of his brother and Lynyrd Skynyrd founder Ronnie Van Zant, had a big hand in formulating Hell House.
For a band with a distinctly American identity, the idea was to have, well, an American whiskey. Hell House is just that, though it isn't technically a bourbon. Rather, it's a blend of whiskies, including a rye. Johnny Van Zant told MarketWatch, "We feel we hit it right on the head, with a whiskey that is bold and powerful, yet smooth and iconic, just like all of those timeless Skynyrd songs." (And if you need a reminder, some of Lynyrd Skynyrd's biggest hits include "Sweet Home Alabama," "Free Bird," "What's Your Name" and "Gimme Three Steps.")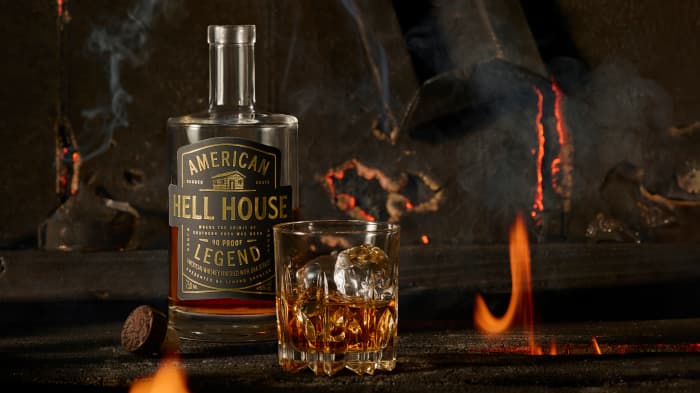 The whiskey's release was timed with the 50th anniversary of the band's groundbreaking album, "Pronounced 'Lĕh-'nérd 'Skin-'nérd." (Overall, the band has sold 28.5 million albums to date, making it among the top 100 artists of all time.) And the whiskey's name refers to the cabin where the band rehearsed and perfected its sound (it was appropriately called Hell House because of its lack of air-conditioning).
For Bespoken, the plan is to continue with more artist-themed releases. The company has also partnered with the country/Americana band Whiskey Myers on something called Uncle Chicken's Sippin' Whiskey. "These partnerships are a great way to expand our horizons," said Peter Iglesias, Bespoken's chief executive.
What we think about it
Don't let the "hellish" name scare you. This is a very approachable whiskey — an easy sipper with a nice mix of sweetness and spice. Bespoken says you should pick up hints of everything from cotton candy to rose and lavender.
How to enjoy it
This is fine as a standalone neat sip, though I think it benefits from some ice. For a cocktail option, Bespoken says an Old Fashioned is a good way to go.