When Andrew Pessano was looking to create a state-of-the-art indoor pickleball facility in southern New Jersey and take advantage of the surging interest in the sport, he considered building it from scratch. But he and his partners realized it would take at least two years and likely cost well over $1 million.
So, Pessano and his team found a different way to achieve their goal: They leased a vacant big-box space — formerly home to a Burlington
BURL,
-4.90%
store, in fact — and turned it into Proshot Pickleball, a membership facility replete with eight cushioned courts, viewing decks, a pro shop and a players lounge.
Pessano says that since opening in mid-February, he's already signed up more than 300 paid members. "The first couple of months we're busy, busy," he adds.
Proshot Pickleball could be something of a model for the future of what is often described as the fastest-growing sport in the country, a game that shares elements with tennis, ping-pong and badminton. In short, pickleball could soon be coming to that vacant space in your local mall — or to that abandoned big-box store. (Consider all those soon-to-be-empty Bed Bath & Beyond locations.)
"Pickleball 'will help America's malls to become the social hub they once were.'"
The trend is already happening: A recent retail-outlook report from JLL, a company that tracks the commercial real-estate market, points to pickleball facilities in locations ranging from a former Saks Off Fifth store in Connecticut, to a shuttered Belk department-store location in Georgia.
Pickleball "court owners are targeting malls for expansion," says the report.
Of course, no one is saying that pickleball won't continue to be played in parks and other public spaces, or even people's driveways. Inherent in the game's appeal, say fans, is that it can be played just about anywhere. But there are notable factors driving the move into malls and other retail locations.
Begin with that surging interest in pickleball. Nearly 9 million Americans are now playing the game, the Sports & Fitness Industry Association reports — an astounding year-over-year increase of 85.7%. 
All those players need places to play, but the lack of available public court space in many cities and towns has led to all sorts of skirmishes, with issues arising when players use tennis facilities or take up space in playgrounds. As one parent complained about the pickleballers when the turf war erupted at a New York City playground: "It's not a coexistence, it's a complete and utter takeover."
See also: As pickleball players spend billions on the sport, they run into conflicts and controversy
That leaves more room for operators of private facilities, like the pickleball court owners that JLL cites, to enter the picture — and many concepts, even chains, are starting to emerge to address the demand. But where should they go? Again, building from scratch can take a lot of money, and time.
"Nearly 9 million million Americans are now playing pickleball, the Sports & Fitness Industry Association reports — an astounding year-over-year increase of 85.7%."
Meanwhile, mall operators and landlords of other retail spaces, such as big-box stores, are continually looking for new concepts to bring into their spaces, especially as brick-and-mortar retail stores fight to stay relevant and afloat at a time when online shopping has become the norm for many Americans.
In turn, those concepts are more often about "experiences" rather than shopping, says James Cook, a research director at JLL. Think museums, golf simulators and pickleball.
It's about redefining the retail landscape, Cook says. "The idea is this is something new and unique," he adds of these emerging types of mall/big-box tenants, including pickleball facilities.
Mike Leigh, author of "Zen and the Art of Pickleball," sees an especial logic to pickleball in malls. These retails spaces are all about bringing people together, something that is all too easily forgotten in a point-and-click world of online shopping. And pickleball is a game that's inherently social because of its close-up nature.
So the two make a natural combo, Leigh says: Pickleball "will help America's malls to become the social hub they once were."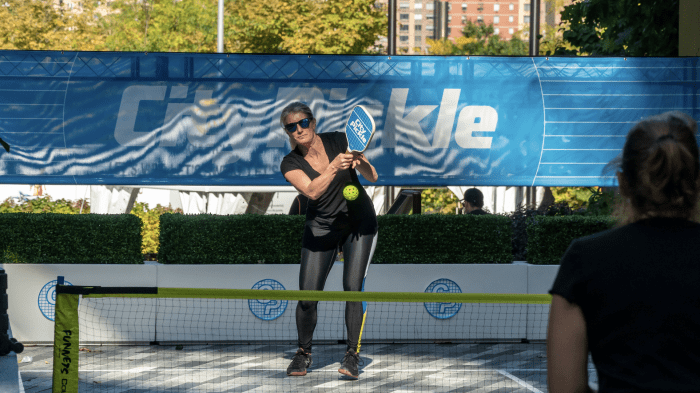 Still, there are plenty of arguments to the contrary, so this is not a one-size-fits-all solution.
America's malls and other retail hubs have their share of empty spaces, but the situation may not be as dire as it seems, Cook says. He points to the current retail vacancy rate of 4.2% being "at historic lows," noting that there's been considerable recovery since the darkest days of the pandemic.
Moreover, he says, higher-end malls are doing especially well — and it's those spaces that tend to be a good fit for experiential concepts like pickleball. In other words, these malls may like the idea, but they aren't necessarily begging for tenants.
Plus, Cook says pickleball facilities can need lots of space — concepts often have a food-and-drink component for pre- and post-game socializing. And facility operators like to have outdoor space, if possible, for the warmer months. Such requirements can pose challenges in a traditional mall setup, he says.
"I think [pickleball] only works in some specific instances," he says.
Pessano, of South Jersey's Proshot Pickleball, points to another issue: If the space's support columns aren't situated far enough apart from one another, it will make it difficult to have enough courts to make for a viable business. And the ceiling height can't be too low, either, he adds.
These discouraging realities notwithstanding, it appears pickleball operators will continue to consider abandoned mall spaces and big-box stores as a good option to create much-needed court space. Take CityPickle, a private operator that already set up a pop-up facility in New York City's Hudson Yards mixed-use development in the past year, and is looking to establish permanent court spaces in the Big Apple and elsewhere.  
CityPickle founders Mary Cannon and Erica Desai say they are considering abandoned retail locations as possibilities. They like the open space these places provide, and they say that landlords appreciate having tenants that bring the kind of buzz and energy that a pickleball facility offers.
"It makes so much sense," says Cannon.