Stocks tend to benefit when rate-hikes stop.
Since the '70s, the S&P 500 index
SPX,
-0.14%
gained 8.1% on average, when looking a year after the Federal Reserve stopped hiking rates in past cycles, according to UBS.
Averages, however, don't tell the whole story. There have been plenty of gains larger than 8% — and sharp declines a year after rate-hikes stopped, according to the past 10 cycles of Fed actions.
Specifically, the S&P 500 advanced 35.7% after the end of rate hikes in 1995 (see chart), but fell 16.5% in the aftermath of the 1984 cycle.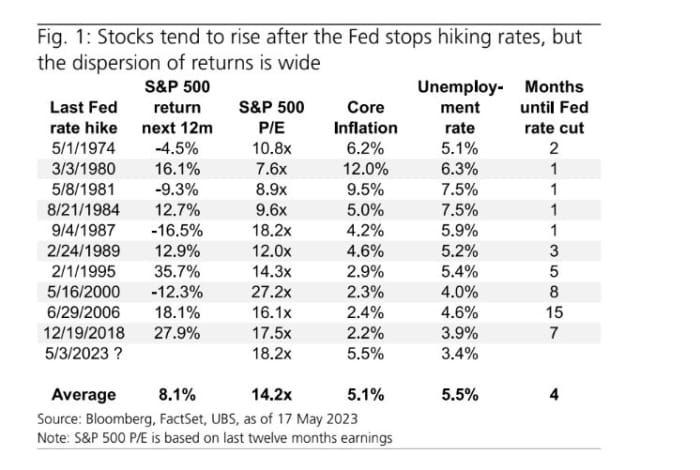 The chart also shows it took four months on average between the end of past Fed rate-hiking cycles, before the first rate cut. But again, in 2006, as risks leading up to the 2008 global financial crisis were gathering steam, it took 15 months before the first Fed rate cut.
"Stocks tend to rise once the Fed is done hiking rates. But we should bear in mind that stocks usually rise about 9% on average over any 12-month horizon," a team led by David Lefkowitz, CIO head of equities at UBS Financial Services, said in a recent client note. "So the returns after a Fed pause look no different than normal."
Lefkowitz's team said Fed Chairman Jerome Powell repeated warnings that inflation remains too high, and the labor market "very tight," makes it hard for the Fed to pivot to rate cuts soon.
Powell's focused on the slow slog to get inflation back down to the central bank's 2% annual was again in focus on Friday in a talk with former Fed Chair Ben Bernanke.
Read: Fed's Powell says progress on bringing down inflation will be slow
Stocks turned lower Friday after lawmakers in Washington, D.C. said debt-ceiling talks were at a pause.
The Dow Jones Industrial Average
DJIA,
-0.33%
was off about 80 points, or 0.2%, at last check, while the S&P 500 index was 0.1% lower and the Nasdaq Composite Index
COMP,
-0.24%
was down 0.2%, according to FactSet.