More than 199,000 global tech-sector employees have been laid off since the start of 2023, according to data compiled by the website Layoffs.fyi, and the number of global tech layoffs has risen almost eightfold since mid-January. So where did those workers end up?
Former tech and media workers have landed new jobs in the same sector, as well as in professional services, financial services, manufacturing, and hospitals and healthcare, according to a LinkedIn report released this week. The report tracked thousands of workers who worked at tech and media companies and landed new jobs between January and April.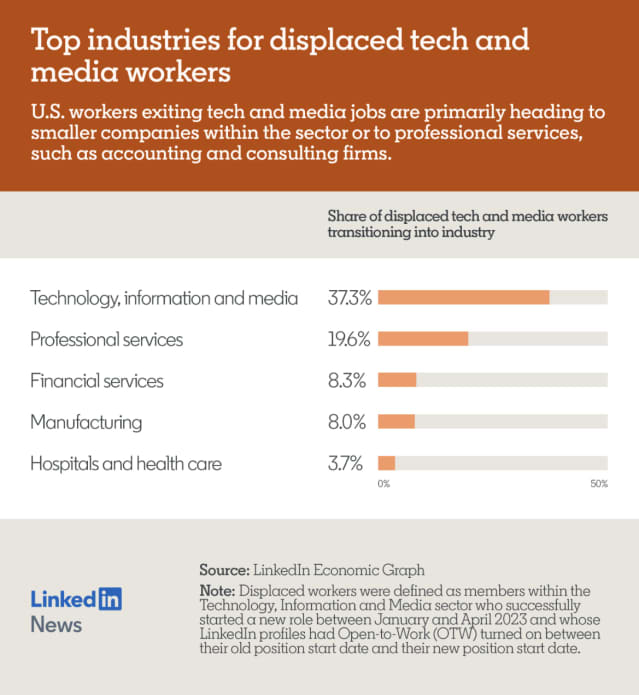 Some 37.3% of these workers landed a job in technology, information and media, the sector where they previously held jobs. The next highest share of displaced workers (19.6%) moved into professional services, a sector dominated by accounting and consulting services, while 8.3% transitioned into financial services and 8% found jobs in manufacturing.
"Think of professional services firms as huge importers of tech expertise, which drives a lot of their consulting business," wrote George Anders, the author of the report and a LinkedIn senior editor-at-large. "This desire to build IT and software capabilities is running strong in financial services, too. … Talent flows go in both directions."
Anders added: "Five fresh career paths stand out, and only one of them involves finding another job in tech."
Consulting and financial-services companies are prioritizing software and information technology roles to build IT capabilities, he said. The manufacturing sector is hiring software engineers, sales representatives, and marketing and project-management workers, he added, and car makers, medical-equipment makers and aerospace companies have been "especially active" in hiring displaced tech workers.
Facebook owner Meta
META,
+3.70%
is one of a number of tech companies making job cuts in recent months. Netflix
NFLX,
+5.54%,
Salesforce
CRM,
+2.63%,
Amazon
AMZN,
+4.44%
and Alphabet Inc.'s Google
GOOGL,
+0.92%
GOOG,
+0.87%
have also announced layoffs. The layoffs and hiring freezes have come as the Federal Reserve has raised interest rates to combat inflation.
A positive sign: More than half of workers laid off in December and January reported they had found a new job by the end of January, according to a ZipRecruiter survey released in March. Overall, it took those workers seven weeks on average to find new jobs, the survey found. 
The number of Americans who applied for unemployment benefits before Memorial Day weekend totaled a low 229,000 after Massachusetts took dramatic steps to weed out a massive increase in fraud. New jobless claims in the seven days ending May 20 rose by 4,000 from 225,000 in the previous week, the Labor Department said Thursday. The figures are seasonally adjusted.
Job openings fell to 9.6 million in March, the lowest number since April 2021, and down from a revised 10 million in February, the Labor Department said earlier this month. Total job openings in the private sector fell to 8.5 million in March from 8.9 million in February, the government added. The unemployment rate in March was 3.5%, and there were 1.6 vacancies for every unemployed person.
Jeffry Bartash contributed.
Related: As Big Tech cuts workers, other industries are desperate to hire them