Packaged-food companies that have been steadily increasing prices in an inflationary environment may be facing a formidable opponent, according to a new report.
Their biggest customer by far, retail giant Walmart Inc.
WMT,
-0.25%,
is unhappy with their strategy, says the report from research company CFRA.
Walmart has recently become vocal about persistent inflation in the dry grocery and consumables categories, "which we believe is a warning shot for consumer packaged goods (CPG) companies looking to further raise prices," said CFRA analyst Arun Sundaram in the report that's based on proprietary analytics.
The list includes General Mills Inc.
GIS,
-1.08%,
Hormel Foods Corp.
HRL,
-0.36%,
Kellogg Co.
K,
-1.86%,
Campbell Soup Co.
CPB,
-2.21%,
Kraft-Heinz Co.
KHC,
-1.28%,
Conagra Brands Inc.
CAG,
-1.58%
and Hershey Co.
HSY,
-0.52%,
among others. Sundaram is cautioning investors to stay away from packaged foods and meats given expensive valuations and the likelihood for weaker fundamentals once company earnings lap prior-year pricing actions.
While fresh-food inflation has been tempered in recent months — some fresh foods, in fact, are now seeing disinflation, or even deflation, as is the case with beef — the prices of such dry groceries as cereal, spices and snacks have remained elevated.
"While fresh-food inflation has been tempered in recent months, dry food prices are still stubbornly high — 'and Walmart is sick of it.'"

— Arun Sundaram, analyst, CFRA

That was confirmed recently by Tyson Foods Inc.
TSN,
+0.71%,
which recently reported a 5.4% decline in beef prices in its fiscal second quarter, hurt by reduced domestic demand and softer export markets. Beef has been affected by shrinking herds after years of drought conditions, which has made it more expensive to buy livestock, Chief Financial Officer John Tyson told analysts on the company's earnings call.
See now: Tyson Foods shares slide after meat producer swings to surprise loss
But dry-food prices are still stubbornly high — "and Walmart is sick of it," said Sundaram.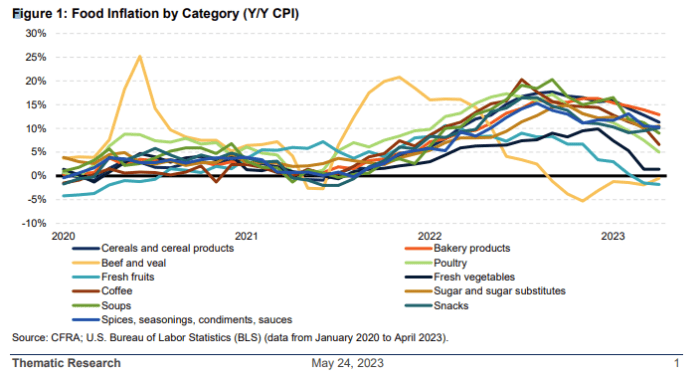 "Given Walmart's enormous bargaining power over its suppliers, we expect the retail giant to push back on further price increases from its packaged-food suppliers," he said. That is expected to hurt margins, especially if volume growth does not recover.
Walmart accounts for 10% to 20% of the annual sales of the CPGs, and maintaining a strong relationship with the retailer, for its suppliers, has to be a high priority. That gives Walmart far more bargaining power than its suppliers. If price talks get ugly, Walmart can simply allocate more shelf space to another supplier.
Campbell Soup Co. learned that lesson in 2017, when it failed to reach an agreement with Walmart on a promotional soup program and saw its products sidelined.
Walmart's recent earnings showed a slight gross-margin decline as customers spent more on essentials and less on discretionary products. But food costs remained up by a percentage in the low double digits and are up more than 20% over a two-year period.
"This isn't a surprise, since most packaged-food companies started implementing price hikes during the summer of 2021 and haven't really looked back since," said the analyst.
Walmart will want to bring its food costs down to retain its leading market share in grocery, which is based on its reputation for low prices and convenience.
CFRA has a negative 12-month fundamental outlook for the packaged-foods and meat subindustry and has sell ratings on General Mills, Hershey, Hormel and Kellogg.
The Consumer Staples Select Sector SPDR
XLP,
-1.14%
exchange-traded fund has fallen 1% to date in 2023, while the SPDR S&P Retail ETF
XRT,
+0.03%
has fallen 2%.