Your diploma has been framed, the cap and gown are in storage, and you've been to more going-away parties than you can count. Now, where to focus that job hunt and narrow down where to live after graduation? If your destination wish list includes lots of culture, a smaller-town feel and football Saturdays (you're never too old to tailgate), it may be time to head back to school — only without all the classes and homework.
Here are five college towns that are great places to live after graduation. 
1. Madison, Wis.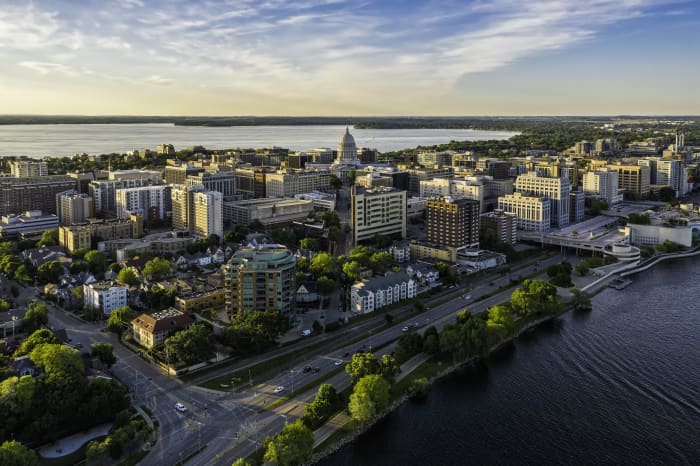 If the Midwest is calling your name, this authentic college town, home to the University of Wisconsin-Madison, is an easy answer. Frequently recognized on award lists — one of the best cities in the Midwest, best city for biking, happiest city in the world, greenest city, fittest city, etc. — the state capital has the feel of a smaller town (population: 272,159) but offers big-city amenities and culture. With an array of museums, the largest producer-only farmers market in the nation and plenty of food fests — from the world's biggest Brat Fest to the Isthmus Beer Cheese Festival — it's also just 77 miles from Milwaukee and 122 miles from Chicago.
Madison is also an excellent place for 20-somethings (more than half the population is younger than 30) and those who seek an active lifestyle (you'll find five lakes, more than 260 parks and bike paths everywhere you look). 
Ready to move? The average rent for a one-bedroom apartment is $1,567, roughly $400 below the national average, and the median home value in Madison is $339,874. The largest job sectors include healthcare, life sciences, agriculture, advanced manufacturing and IT, and, of course, public employment in education. Is that "On, Wisconsin" we hear you humming?
2. Corvallis, Ore.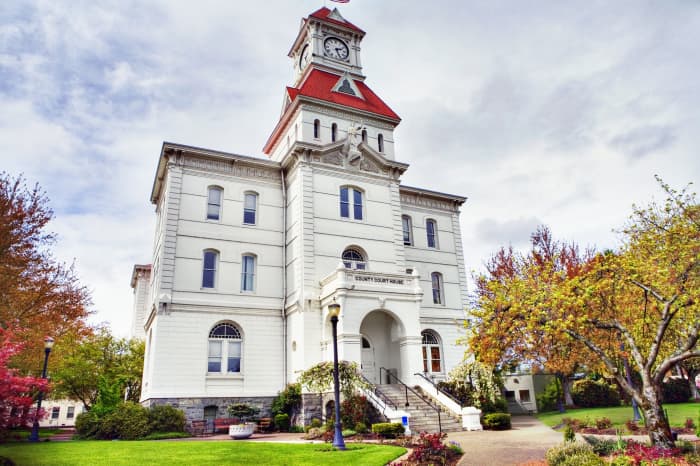 So your ultimate town wish list includes charming homes, proximity to outdoor adventures, a vibrant college campus and breweries, wineries and independent restaurants? It's a tall order, but Corvallis, home to Oregon State University, will check all your boxes. 
The pretty, stately campus, situated near downtown, is one of just a few in the country with National Register of Historic Places status and hosts many cultural events (and Pac-12 athletics) open to the public throughout the year. 
With a population of 58,612 and an average Benton County home price of $527,363, it's also a place where creative jobs are common — nearly half of the workforce is engaged in careers in science and technology, design and architecture, arts, entertainment and media, healthcare, law, management, and education.
Also see: 25 of the best places to live out West
Weekend warriors will love its location in the Willamette Valley (just 90 minutes from Portland), where both skiing and the Oregon coast are within easy drives, but crowd-drawing events, including a festival called da Vinci Days and the Corvallis Fall Festival, make staying put fun, too. 
3. Ames, Iowa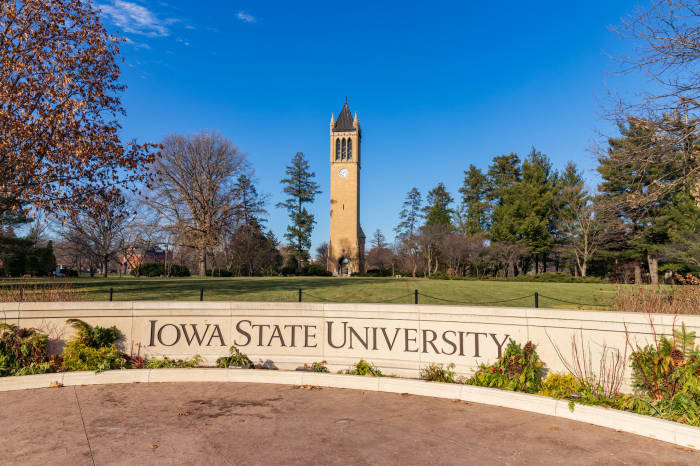 "Is this heaven? No, it's Iowa."
Longtime residents of Ames may tire of the famous "Field of Dreams" line, but the movie quote isn't far off. Boasting Iowa State University, 36 parks, a fun downtown scene, miles and miles of bike trails, four golf courses and more, this college town is a solid place to put down roots.
And it's not just us saying it: Ames, with a population of 66,361 (including students), has racked up a long list of accolades, including best place for STEM grads, best town for millennials and healthiest city. 
If you plan to have kids, Ames has one of the nation's top school systems. If you crave culture, the university brings Broadway shows, Pulitzer Prize–winning speakers and famous artists from across the world. If you love collegiate athletics, the Big 12 member ISU Cyclones will have you cheering. 
Don't miss: This Iowa town will pay you to build a house there
And it's affordable, too: The median home value is $246,387, and the average rent for a one-bedroom apartment is $725. Top jobs are in education, government and professional, and scientific and technical services.
Heaven? No, it's Ames. 
Also see: The best affordable places to live in the U.S.
4. Ann Arbor, Mich.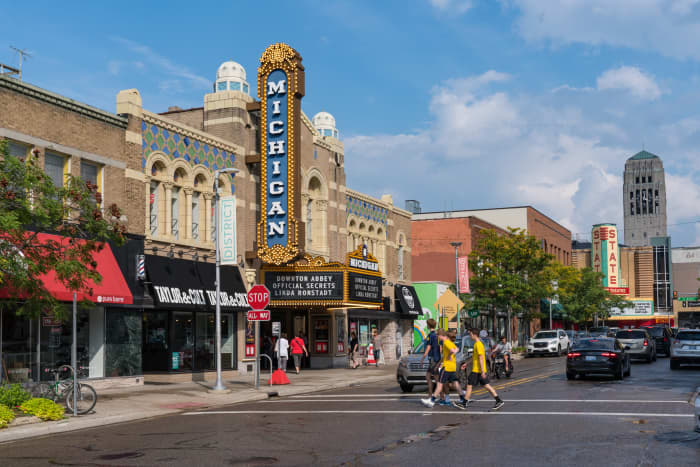 Thinking of moving to Wolverine territory? Start by learning the lyrics to the University of Michigan fight song ("Hail! to the victors valiant; Hail! to the conqu'ring heroes; Hail! Hail! to Michigan, the champions of the West!"), then get ready to take notes on what makes this city (one of the best in the country) so beloved.
First is the college's award-winning museums, cultural performances, nationally ranked sports teams (the football stadium seats a whopping 107,601, with epic tailgating on its exterior) and Instagram-worthy campus. Then there's the food and drink scene: more than 300 restaurants, food trucks, a charming farmers market and a host of breweries.
See: 25 of the best cities and towns to live in the Northeast U.S.
Or the festivals held most weekends, such as July's Ann Arbor Art Fair, April's FoolMoon and FestiFools and holiday lights fest. Or the outdoor options — you could golf, hike, mountain bike, snowshoe or cross-country ski or canoe, paddleboard or kayak the Huron River. 
Named a winner on lists celebrating the most educated cities in America, best coffee, best college towns, happiest cities, best cities for entrepreneurs, best city for millennials and so on, Ann Arbor boasts about 122,915 residents (U. of M. students included). The median home value is $377,706, and almost 10% of the workforce is employed by the university (the city's largest employer); unemployment is low, with the healthcare, automotive, IT and biomedical research fields as local leaders.
Ann Arbor? Hail, yes!
5. Fort Collins, Colo.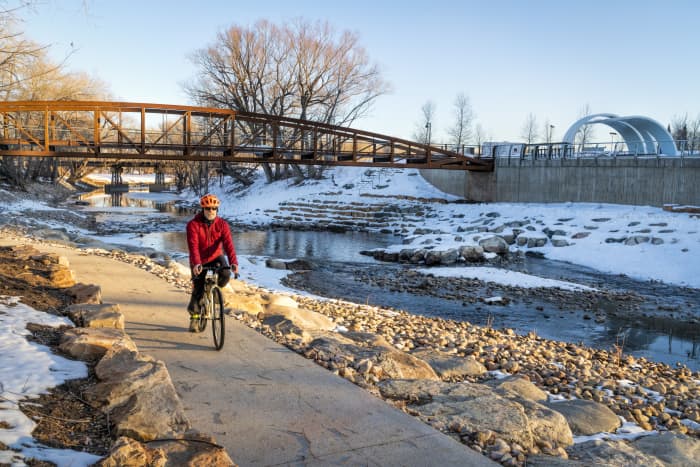 When it comes to Rocky Mountain college towns, Boulder tends to get most of the love. But Fort Collins, home to CU's intrastate rival, Colorado State, is bursting with potential as a worthy city in which to put down roots.
And if you're a beer drinker, it's time to hoist a pint. Fort Collins makes roughly 70% of the craft beer produced in the state of Colorado and has one of the highest numbers of microbreweries per capita. When friends visit, hop on a brew tour (there are plenty to choose from) to sample a Fat Tire from New Belgium, a 90 Shilling from Odell or a Dunkel from Zwei. 
Just an hour's drive north of Denver, this town (population: 172,676), may center on CSU (which boasts a world-class performing-arts center, historic buildings and a state-of-the-art stadium), but it also supports a ballet troupe, opera company, symphony, art galleries, museums and lots of live music venues. The major employers in the area include Advanced Energy Industries, Anheuser Busch, Banner Health and CSU. 
Also see: I'm looking for a place that has year-round mild, sunny weather and is near or on the water, and my budget is $125,000 — where should I retire?
And the setting ain't bad. Located along the Cache la Poudre River and along the Front Range, camping, hiking, skiing, fishing, biking and other outdoor adventures are just moments away. It's a perpetual award winner on top-cities lists, from the best city for cycling to the best place to raise a family to the best place to live.
The average home price in Fort Collins is climbing — currently, it's at $487,730, with one-bedroom apartments renting for $1,500 on average. But it's easy to see why folks come here for college and stay forever. 
Read the original article on Livability.