Dear MarketWatch, 
We are looking to snowbird in about three years, and have about $600,000 to $700,000 to invest in a place to live. We won't be there in deep summer, but are looking for mild and pleasant outdoor weather in the winter. We would like to be within an hour of a major airport. I don't care for big cities, and we have looked at Fountain Hills, Ariz., and New Braunfels, Texas. Any other examples you would recommend?
Looking for ideas on the best place for you to retire? Email HelpMeRetire@marketwatch.com
Dear Snowbirds, 
It's great that you're thinking ahead so you can spend some time visiting your retirement options before making a final decision. You're also fortunate to have an ample budget to invest in a new home, giving you a lot of flexibility on where to retire. 
The MarketWatch "Where Should I Retire" tool recommended two Florida beach destinations as strong options. You can also play around with the tool to find bigger or smaller cities or restrict your search to a particular state as you narrow down your search over the next few years. 
For now, let's explore your beach options.
Fernandina Beach, Florida 
This beach community is the northernmost city on Florida's Atlantic coast, located on Amelia Island, and is about 30 minutes away from Jacksonville International Airport.
Amelia Island is one of the Sea Islands, a chain of barrier islands stretching along the east coast of the United States from South Carolina to Florida. It's 13 miles long and about 4 miles wide at its widest point. Amelia Island was voted third best island in the U.S. by Condé Nast Traveler, behind Hilton Head Island and Kiawah Island, both in South Carolina. 
Fun things to see, do and explore include the Amelia Island Concours d'Elegance, an automotive charitable event. Amelia Island Museum of History, located in the historic Nassau County jail, highlights the island's 4,000 years of Florida history. 
There's also an annual shrimp festival, as well as history to explore at Fort Clinch State Park, the home of a 19th century fort. Check out the Amelia Island Trail, which is part of a network of paths called the East Coast Greenway that stretches from Maine to Florida. 
Add to that kayaking, fishing, golf and pristine beaches and you may have a nice, quiet retirement retreat.
The media home price is $637,000, according to Realtor.com, which has the same parent company as MarketWatch
Miramar Beach, Florida
On the opposite coast of Florida, along the Gulf of Mexico, is Miramar Beach. It's population is about 9,060, keeping you away from a big-city feel. 
It features scenic beach roads, surf shops, restaurants, beachfront homes and resorts. Miramar Beach is surrounded by state parks—Topsail Hill Preserve State Park and Henderson Beach State Park—giving you dunes to hike and great lookout points along the emerald waters of the gulf.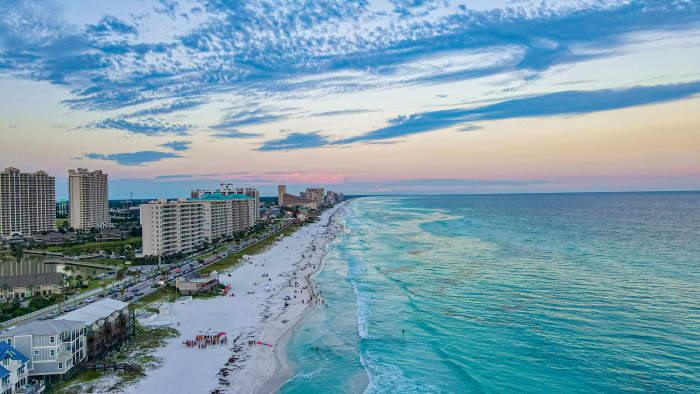 The average home price is at the high end of your budget at about $692,000, according to Zillow.com. 
You can reach Miramar Beach from the nearby Destin-Fort Walton Beach Airport, Northwest Florida Beaches International Airport or drive about 80 miles to the Pensacola International Airport.
Readers, where should our snowbirds retire? Leave suggestions in the comments.