A small group of technology stocks may be powering the stock market higher, but investors have continued fleeing equity funds in the first five months of 2023 in favor of fixed-income alternatives, according to LSEG Lipper data.
An estimated $114.3 billion was pulled from conventional equity funds this year through the end of May, according to the data, as investors brace for the Federal Reserve's higher rates to course through the U.S. economy.
On the flip side, $36.8 billion flowed into equity exchange-traded funds, or ETFs, on the year through May 31, somewhat offsetting the total outflows from equity funds, according to LSEG Lipper data.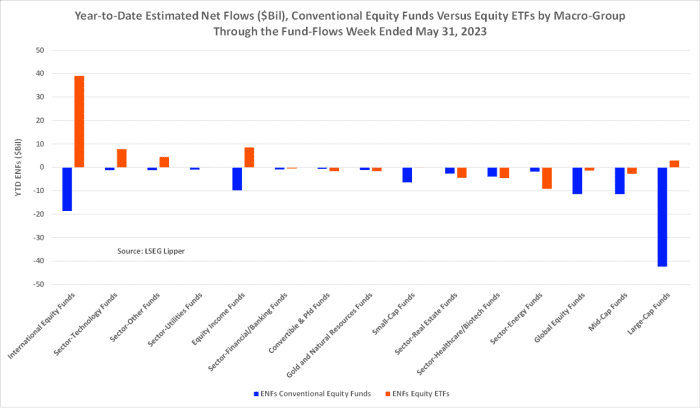 Drilling down, data show that "investors gave the cold shoulder to large-cap funds," which saw $39.4 billion of outflows through the end of May, said Tom Roseen, head of research services at LSEG Lipper.
Funds instead have been pouring into taxable fixed-income funds that accumulated $63 billion so far this year, as investors have embraced some of the highest yields for bonds in about two decades.
Yields on some short-term Treasury bills in the eye of the debt-limit fight recently shot above 7%. The 1-month T-bill rate
TMUBMUSD01M,
5.180%
has pulled back from recent highs of about 5.7% to about 5.2% on Monday. A first-ever default by the U.S. was averted recently through a suspension of the debt limit through 2025, through a bill signed into law by President Joe Biden on Saturday.
Related: Want to earn 5% on your cash? Money-market funds are giving online savings accounts a run for their money.
Still, the fund flows away from stocks hasn't stopped the Nasdaq Composite Index
COMP,
-0.09%
from advancing 26.4% on the year through Monday.
Similarly, the S&P 500 index
SPX,
-0.20%
briefly traded above 4,299.28 on Monday but failed to end above the 4,292.44 level need to qualify for an official exit from bear-market territory. That would require a closing level of 20% or more from the large-cap benchmark's October low.
Critics of the rally point to gains for stocks this year that have been driven largely by seven powerhouse tech companies.
Shares of Apple Inc.
AAPL,
-0.76%
fell 0.8% Monday but had earlier been on the brink of a record close.
Critics point to a potential weakness in the rally, given that the combined market capitalization of Apple, Microsoft Corp.
MSFT,
+0.16%,
Google parent Alphabet Inc.
GOOG,
+1.12%,
Amazon.com Inc.
AMZN,
+0.85%,
Nvidia Corp
NVDA,
-0.40%,
Facebook and Instagram parent Meta Platforms Inc.
META,
-0.45%,
and Tesla Inc.
TSLA,
+1.70%
means they have been driving the S&P 500's 11.3% gain on the year.
Read: What if the S&P 500 fumbles its bear-market exit? What strategists think of the role of tech in this rally.
Also read: A Fed skip? A pause? Even so, investors aren't likely out of the woods.