The bottles
Delola bottled cocktails (Bella Berry Spritz, Paloma Rosa Spritz, L'Orange Spritz), $22.99 (750ml) and $11.99 (375ml).
The back story
Jennifer Lopez has already conquered the worlds of film, music, perfume and even footwear. So, what's next?
JLo now has her own booze brand, naturally.
Specifically, Lopez has launched Delola, a line of bottled cocktails in the Italian "spritz" style — meaning bubbly and aimed at refreshment. One might say she's a little late to the game: There's nary a celebrity who doesn't have a bottle to their name, with some having enjoyed runaway success (like George Clooney, who partnered on Casamigos tequila, a brand that was eventually sold to Diageo for a cool $1 billion).   
The 53-year-old Lopez told MarketWatch this week that she had been approached many a time to go into the booze biz. But the timing didn't feel right until recently — in part because she's finally found herself with an opportunity to slow down and appreciate a good sip.
"My first half of my life was so much about working. … I was such a workaholic. I realize I'm not the same person I was 10 years ago," she said.
Delola is very much a Lopez-driven project — the name itself refers to a pet name ("Lola") that the artist has used to speak to her more playful side. Lopez said she was involved in almost every aspect of production, from the flavor profiles to the distinctive bottles (JLo doesn't do cans, she noted). Lopez also said she has a financial investment in the brand, though she declined to specify the amount.
Lopez said her main goal with Delola was to offer a bottled cocktail that is healthier, as in lower in calories (Delola clocks in at about 110 calories per serving), and made with natural botanicals. But it's also about celebrating that JLo-gone-Mediterranean vibe. "Kind of like that idea of a fantasy life, this Bronx girl on this yacht. … That was really my elevated fantasy idea of this brand," she said.
Not that Lopez went at it alone. Among those involved in the project are drinks-industry veterans Ken Austin and Jenna Fagnan (they helped launch Teremana tequila with Dwayne "The Rock" Johnson) and mixologist Lynnette Marrero. And Beam Suntory, the global booze conglomerate, is aboard as a minority investor.
Still, the project could face challenges. The bottled cocktail — or RTD (as in ready to drink) market — has exploded in recent years (and is expected to increase 11.43% in 2023), meaning Delola has plenty of competition. And Lopez has already gotten some backlash for the fact she previously touted the fact she didn't drink alcohol.
Lopez's response to the criticism? "I find that kind of funny because I feel like, 'Does nobody ever change over the whole course of their life?' " she said. "Yes, there was a time when I was not a drinker. And then there was the time I was a light drinker. And I'm still kind of a moderate, celebratory, vacation-type drinker. But I do drink, and I have for years."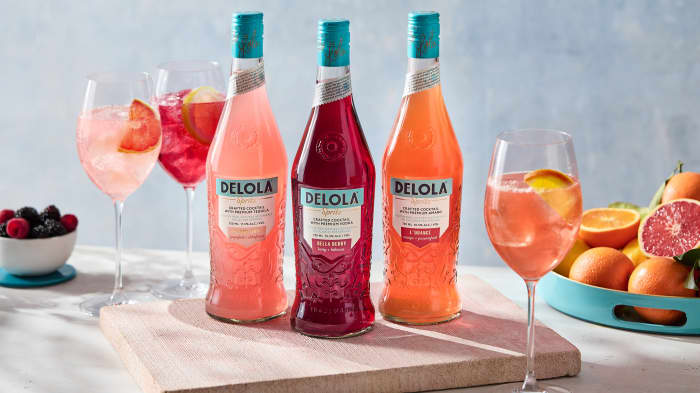 What we think about them
I always have my share of skepticism about celebrity-backed booze brands because they often are more about the celebrity than the quality of the sip. But count me as a Delola fan. What Lopez and her team have done is crafted a very adult RTD — meaning one that doesn't have that overly sweet or artificial quality that's common to the type. The flavors are well-balanced in all three of the offerings, though I'm partial to L'Orange because it's very close to the Italian cocktails I like (such as the Aperol spritz).
How to enjoy them
Judging from the photos we've seen of Lopez enjoying her Delola, it seems she's a fan of pouring the drink into a wine glass with a few cubes of ice — certainly, a classy way to approach things. But you'll have to provide your own yacht if you want to take it to the next level.