"'I got indicted four times, all trivia, all nonsense.'"
That was former President Donald Trump speaking to former Fox News host Tucker Carlson in a pre-taped interview that was posted just a few minutes before the Republican presidential debate kicked off Wednesday night. 
The wide-ranging chat that ran roughly 45 minutes saw Trump and Carlson taking shots at Trump's legal troubles, his GOP and Democratic rivals, cable news networks and more. They did not get into pocketbook issues like inflation, Social Security or student loan debt.
Trump confirmed over the weekend that he was skipping the first GOP primary debate for the 2024 race because "the public knows who I am," and he had little to gain from joining his rivals on stage.
He said something similar during the Carlson interview. "We're doing this interview, but we'll get bigger ratings using this crazy forum that you're using than probably the debate," Trump mused. "I think cable [viewership] is down because it's lost credibility."
It remains to be see what sort of ratings the Fox News debate will pull in from the live broadcast, from streams and from later viewings, of course. Just before 10 p.m. Eastern, the clip posted to Tucker Carlson's feed on X.com was approaching 75 million views.
Read more: Non-Trump Republican presidential candidates to try for 'breakout moment' in this week's debate
Trump had teased on his Truth Social platform ahead of the debate that "sparks will fly," and the sitdown with Carlson at the former president's private golf club in Bedminster, N.J. And Carlson's wide-ranging interview topics were designed with soundbites in mind, such as asking Trump about Jeffrey Epstein, or whether another civil war is brewing in the U.S. — as opposed to many issues top of mind for voters, such as high inflation.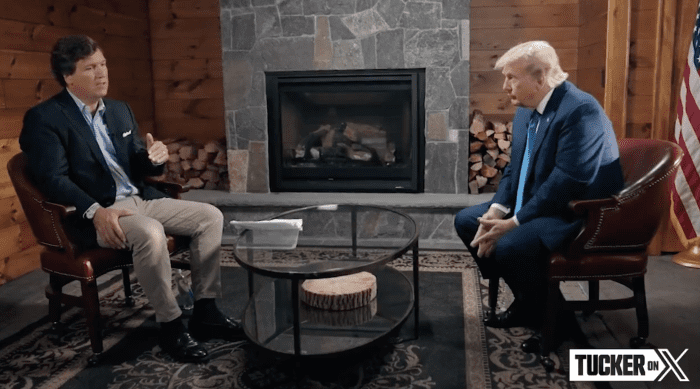 Some highlights from the Trump & Tucker show:
• On why Trump skipped the Fox News debate:
"Do I sit there for an hour or two hours, whatever it's going to be, and get harassed by people that shouldn't even be running for president? Should I be doing that?" he asked, especially since he's such a frontrunner in the polls, so far.
"I just felt it would be more appropriate not to do the debate. I don't think it's right to do it if you're leading by 50, 60, one poll I'm leading by 70 points," he said.
And he threw in a dig to Fox News, calling it "A network that isn't particularly friendly to me." 
He also said the network made "a terrible move" in firing Carlson.
• On the state of the nation:
"We have a country that is very fragile right now," Trump said, arguing he's a candidate for the left, the right and independents, alike.
"You have great people in the Democrat party, you have great people that are Democrats. Most people in the country are fantastic," he said, "and I'm representing everybody, I'm not just Republican or conservative, I represent everybody, I'm the president of everybody."  
• And on his legal issues:
"The four indictments, and maybe there will be more, I don't know," he said. But he said his poll numbers and fundraising keep going up after each indictment because, "I think the people in this country don't get enough credit for how smart they are. They get it, they really get it … I got indicted four times, all trivia, all nonsense. Bullshit, it's all bullshit."
And catch up to what his GOP rivals were getting into by following MarketWatch's debate live blog here.
• Carlson ended the interview by asking Trump whether the country is headed for civil war or open conflict. Trump called Jan. 6 "an interesting day," and said he didn't know. "There's a level of passion that I've never seen. There's a level of hatred that I've never seen. And [that's] probably a bad combination."
Read more from source