Shares of U.S. airlines have posted double-digit losses in September, with stocks of those focused on domestic, leisure air travel the most affected as the industry enters one of its shoulder seasons.
So far, so predictable. What airlines couldn't have predicted is that rising fuel prices are making a bigger dent in their balance sheets.
Oil prices have rallied 30% since early July, from a low of $72 a barrel to $94 a barrel to hit a 10-month high in recent sessions. And oil-product prices such as gasoline and diesel are leading the surge, as they did last year, JP Morgan said in a note Wednesday.
Jet fuel has risen the most, with its price on the Gulf Coast soaring more than 40% since early July, JP Morgan said. The JP Morgan note had this chart showing the increases in jet fuel compared to other oil products: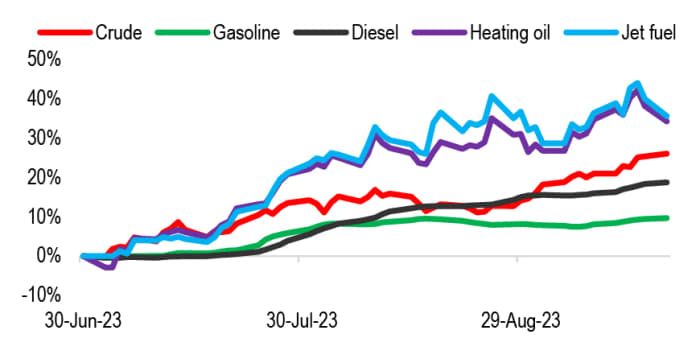 "The downward revision cycle for the airlines continues as rising fuel [prices] erodes margins while domestic pricing slips," analysts at Mellius Research said in a recent note.
The average airline stock was down about 15% over the past month, compared with a small advance for the S&P 500 index. This time of the year, business air travel usually provides some tailwind for airlines and a bridge to holiday travel, another demand peak for airlines.
Airlines have struggled to "take advantage of an evolving demand environment, resulting in the loss of pricing power," and as a result, the group is falling out of favor with investors, the analysts said.
Last week, major U.S. airlines including Delta Air Lines Inc.
DAL,
-1.44%
and American Airline Group Inc.
AAL,
-0.99%
cut their profit outlook for the year, in part pinning it on fuel prices.
See also: Southwest, United Airlines and Alaska Airlines raise estimates for fuel costs
The U.S. Global JETS ETF
JETS
has lost about 8% this month, compared with a decline of 1.2% for the S&P 500 index
SPX.
In the year to date, the ETF has gained 4%, versus a gain of more than 16% for the broader index.