The U.S. dollar has completed its first "golden cross" since July 2021, which could mean the greenback is going higher, creating more problems for stocks.
Heading into Friday's settlement, the 50-day average on the ICE U.S. Dollar Index
DXY,
a gauge of the buck's value against a basket of its biggest rivals that's heavily weighted toward the euro, stands at 103.15, higher than the 200-day moving average, which was 103.11.
The index itself finished at 105.56 on Friday, trading at its highest level since March 10, 2023, the day that the Silicon Valley Bank collapsed, sparking a brief rally in safety plays like the dollar. It climbed 0.2% this week, booking its 10th straight weekly advance, its longest such streak since a 12-week sprint that ended in October 2014.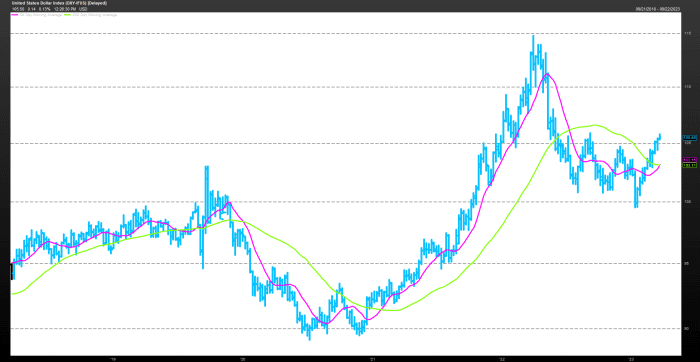 A golden cross occurs when the 50-day moving average closes above the 200-day moving average. It's a popular signal among technical analysts and often — though definitely not always — signals that momentum is building in a given direction.
On the other hand, a "death cross" occurs when the 50-day moving average breaks below the 200-day. A "death cross" in the U.S. dollar occurred on Jan. 10. Afterward, the buck trended lower for the next six months, ultimately hitting its lowest level of 2023 on July 14. Since then, the buck has been in a sustained uptrend that some currency strategists think has grounds to continue, now that the Federal Reserve bolstered its forecast to keep interest rates above 5% through 2024.
According to an analysis by Dow Jones Market Data, the dollar typically continues to climb during the three months following a golden cross, gaining an average of 1.9%, while trading higher 79.2% of the time over. Performance is more mixed one year out, with the buck higher 58.3% of the time, with an average gain of 1.5%.
And if the previous golden cross is any guide, the dollar's recent gains could be just the beginning of a larger advance. After a previous golden cross on July 29, 2021, the dollar index gained roughly 25%, advancing from about 91 to just shy of 115 in late September of 2022, when it touched its strongest level in two decades, according to FactSet data.
Some analysts have warned that the dollar's advance, alongside rising Treasury yields, could create more problems for stocks. The S&P 500
SPX
fell more than 1.6% on Thursday, its biggest drop in a single day since March 22, according to Dow Jones Market Data.
"A new cycle high in yields and a golden-cross in the dollar are strong headwinds for the market," said Jeffrey deGraaf, a technical strategist at Renaissance Macro Research, in a note to clients.