The iconic German sandal and clog maker Birkenstock, beloved of free spirits and pragmatists alike, is going public with plans to list on the New York Stock Exchange on Wednesday under the ticker symbol "BIRK."
The company is pricing its IPO at $46 a share, for a valuation of around $8.6 billion. Birkenstock filed its IPO documents with the Securities and Exchange Commission last month. The deal will be underwritten by a team of 19 banks, led by Goldman Sachs, JPMorgan and Morgan Stanley.
Birkenstock has been in business for about 250 years and prides itself on its technology and tradition, with the public-offering prospectus offering some detailed information on the anatomy of the foot.
"Every foot employs 26 bones, 33 muscles and over 100 tendons and ligaments in walking," the company says. "Improper footwear can cause friction, pain, injury and poor posture, among other ailments."
Birkenstock invented not just the "Fussbett," or footbed, which is core to its orthopedic methodology.
But Konrad Birkenstock, great-great-grandson of the company's founder, Johannes Birkenstock, was the first to create a contoured shoe that was shaped differently to match the anatomy of a right and left foot back in 1897. He followed that up in 1902 with the first flexible insole.
The footbed was the first to use a shoe last that reflects foot anatomy, mimicking the effects of natural-yielding ground, which enable "naturgewolltes gehen," or walking as nature intended.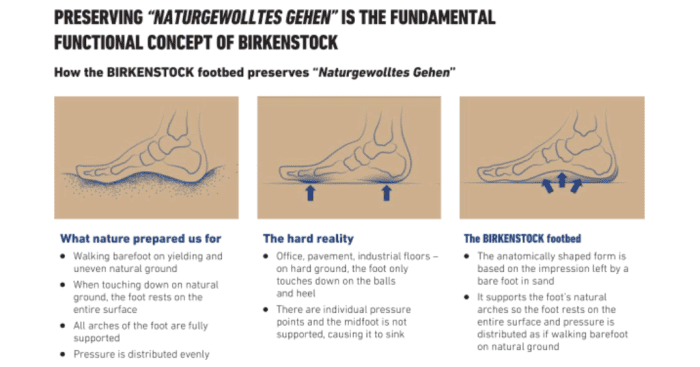 "The footbed remains the guiding principle for everything we do and the platform we use to explore new product categories," according to the prospectus.
The seeds for the IPO were sown about a decade ago, when the company first brought in outside management, with Chief Executive Oliver Reichert joining in 2009 as general manager before taking the CEO role in 2013.
Under Reichert's stewardship, Birkenstock has grown from a family-owned company into a global player that's committed to growing the brand.
"Consumers buy our products for a thousand wrong reasons, but they all come back for the same reason: for our functional proposition, enduring commitment to quality and the rich tradition of our company which enables us to establish meaningful emotional connections with our consumers," Reichert says in the prospectus.
In 2021, L Catterton, an investment company formed through the partnership of Catterton, LVMH and Groupe Arnault, acquired a majority stake. That stake means L Catterton will retain most of the voting rights once the deal is completed, such that individual shareholders will have little sway in the running of the company.
Birkenstock is profitable, notching up net income of 40.2 million euros ($43.1 million) in the first six months of 2023, down from €73.5 million in the year-earlier period. Revenue climbed to €644.2 million from €542.6 million in the first half of 2022.
The company had net income of €187.1 million for all of fiscal 2022, when it sold about 30 million pairs of shoes. That was after a loss of €17.2 million in fiscal 2021.
Following are five things to know about Birkenstock:
Birkenstock relies on scarcity creation
The company's "engineered distribution" model seeks to boost brand value by creating scarcity.
"We strategically allocate our products between our wholesale partners in the B2B channel, which we have been optimizing in recent years, and our rapidly growing DTC (direct-to-consumer) channel. As a result, we drive consistently robust revenue growth and operating margins, achieve excellent sell-through rates and deepen our direct connections with our consumers," the prospectus says.
Since 2016, the company has invested heavily in its DTC channel, creating e-commerce sites in more than 30 countries. In fiscal 2022 some 89% of the DTC channel sales came from e-commerce sites.
As of June, the company also had 45 owned retail stores, with a plurality of them in Germany, where it has 20 locations. But it has also expanded in the U.S. — with locations in such places as Soho in New York and Venice Beach in Los Angeles — and in Tokyo, London and Delhi.
For wholesale, the company had about 6,000 carefully selected partners in 2022 in more than 75 countries, ranging from orthopedic specialists to major department stores to high-end fashion boutiques. It limits access to certain premium products to a curated group of partners, says the prospectus.
Its key markets are the Americas and Europe
Birkenstock's two main markets are the Americas and Europe, which means it has strong growth potential across Asia and the Middle East.
The Americas accounted for 54% of revenue in fiscal 2022, while Europe accounted for 36%. The remaining 10% was accounted for by its Asia-Pacific, Middle East and Africa region.
The company estimates that its average customer in the U.S. owns 3.6 pairs of its shoes today.
Its manufacturing is all conducted in Germany at five company-owned factories, while it has additional component manufacturing at a plant in Portugal.
"With nearly every silhouette requiring over 50 hands to complete, the approximately 4,400 skilled workers we employ ensure we complete production in rigorous accordance with centuries-old know-how and craftsmanship," says the prospectus.
All products are made and materials sourced within the European Union, which has one of the most regulated markets in the world.
Birkenstock is having a 'Barbie' moment
Birkenstock is currently riding a wave of publicity stemming in part from the "Barbie" movie, where Barbie opts for the classic, or some might say frumpy, sandals in pink.
Eagle-eyed fashionistas also noticed that the main character in the Hulu hit "The Bear," a chef, wears the brand's $155 clogs. (Target Corp.
TGT,
+3.66%
is rumored to be bringing back a Birkenstock clog knockoff soon.)
The company first burst into fashion magazines in the 1980s and debuted on runways in the 1990s. It has run campaigns with design studios such as Valentino, Dior and Manolo Blahnik from its Paris 1774 office (named for the year of the company's founding in Langen-Bergheim in the Hesse region of what is now Germany), and has collaborated with fashion labels including Jil Sander and Proenza Schouler.
Birkenstock has a lot of debt
The prospectus highlights "material indebtedness," although many of the tables published in the document are for now unfilled, as is typical with an initial IPO prospectus.
However, the company does disclose it had €1.99 billion of debt outstanding as of Sept. 30, 2022, most of which comes due after 2027.
That is mostly composed of senior term facilities, an ABL facility, bonds, a vendor loan and real-estate facilities.
"We anticipate that our high leverage will continue to exist for the foreseeable future," says the prospectus.
Some of that debt bears interest at floating rates that could rise significantly, raising costs and reducing cash flow, it adds.
It has had weaknesses in internal controls
Birkenstock acknowledged "material weaknesses" in its internal control over financial reporting in connection with the preparation of its financial statements.
"If we fail to remediate our material weaknesses or if we fail to establish and maintain an effective system of internal control over financial reporting when we are subject to compliance with the Sarbanes-Oxley Act of 2002, we may not be able to report our financial results accurately, meet our reporting obligations or prevent fraud," the company cautions in its prospectus.
Prior to this offering, the company has been privately held, with limited accounting personnel with adequate knowledge of some of the accounting now required.
The company is working to hire additional staff and to upgrade its control procedures.
The Renaissance IPO exchange-traded fund
IPO
has gained 34% to date in 2023, while the S&P 500
SPX
has gained 16.5%.
More about the current IPO market:
Goldman chief David Solomon opines on IPO revival, the sale of GreenSky and the challenge of a 'lousy' economic environment
Arm to be valued at up to $52.3 billion as IPO terms are set
Arm IPO: 5 things to know about the chip designer central to the AI transition