Can't buy a house because it's too expensive? How about a cheap old one?
As home prices stay high and rising mortgage rates shrink how much house buyers can afford, some have turned to the idea of buying cheaper, older fixer-uppers. The Instagram account Cheap Old Houses helps people indulge in this fantasy, posting listings for older homes that are relative steals at a time when the median monthly mortgage payment is nearly $3,000.
Now the couple behind the account — which has garnered 2.4 million followers — is out with a new book that shares stories of people who've bought and renovated older abodes. Published Oct. 10, "Cheap Old Houses: An Unconventional Guide to Loving and Restoring a Forgotten Home" is part how-to guide and part inspiration board. Like the Instagram account, it provides a glimmer of hope to the many would-be buyers priced out of the housing market.
Owning a house today "feels like a pipe dream" for many, said Elizabeth Finkelstein, who runs Cheap Old Houses with her husband, Ethan. "You can have a good job. You can have done everything that you're told that you have to do, and you still can't afford a house. And I think that that's really frustrating for a lot of people."
As former New Yorkers, the Finkelsteins know the struggle all too well.  "Every single one of our 10 years we were together [in the city], we never had a place over 600 square feet," Ethan Finkelstein said. They were constantly hunting for their next place to live, so they eventually moved north.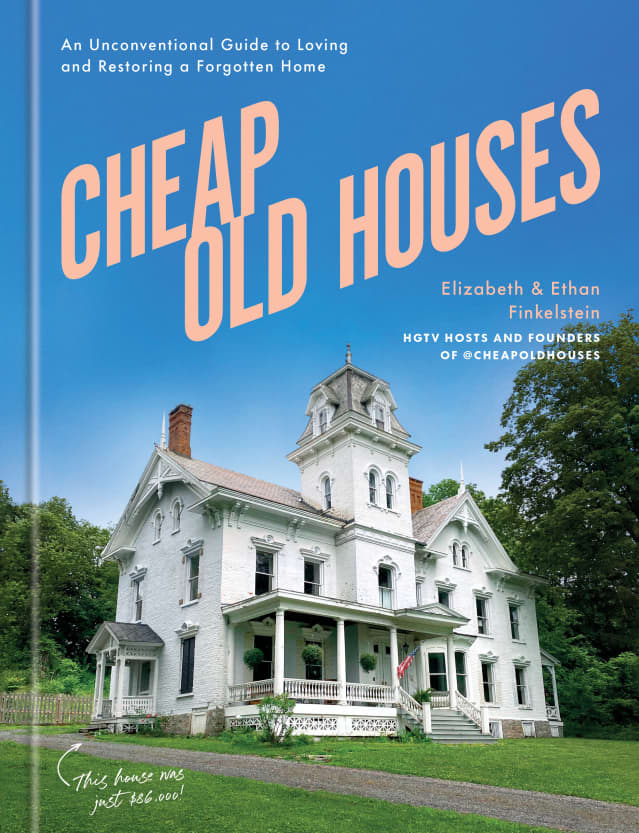 Having bought — and since sold — a $400,000 home built in the 1940s in upstate New York, they decided to go a different route, paying $71,000 for a 1700s-era  fixer-upper further north, close to the Vermont border.
They initially thought of their Instagram account as a "dumping ground" to put listings of cheap and old homes, Elizabeth said, but it's attracted a strong, interested group of users who find the idea of buying one enticing.
"Cheap Old Houses: An Unconventional Guide to Loving and Restoring a Forgotten Home" attempts to inspire people who are considering purchasing an older property that might need some TLC. The Finkelsteins are also hosting a forthcoming show on HGTV called "Who's Afraid of a Cheap Old House?"
"This book is a compilation of all these people that have done it," Elizabeth Finkelstein said. "Especially at a time when … we all feel so sort of left out of the conversation when it comes to housing, especially people of the Instagram generation like millennials and younger who are just really strapped with student debt and don't have the ability to do this."
How they bought a cheap old house
The Finklesteins drew on their own experience to show how others can buy a cheap old house to actually live in. After a decade living in apartments in New York City, the couple moved upstate to their first home.
Elizabeth had at the time been running an online real-estate marketplace and had a background in historic preservation. She developed the idea of creating an Instagram account that would be a place to put listings of old, historical homes that were fixer-uppers. 
Homes listed on online brokerages in this category were often poorly photographed, she realized. "I know that this [real-estate agent] in the middle of Oklahoma is making a $20 commission on this $10,000 house and can't afford professional photos. But like that blurry photo is a picture of an original art deco bathroom — and someone needs to see this," she recalled thinking.
They launched their Instagram account in 2016. The couple now regularly posts on its feed, and also sends out newsletters for more niche audiences, such as those interested in cheap old farmhouses, or in cheap old houses abroad. Houses featured recently on the Instagram account include a "stately" four-to-five-bedroom brick house for $39,000 in Oxford Junction, a town of about 400 people in Iowa. Featured homes are often a mix of grand and rundown, with appealing historical details like stained glass windows or original woodwork. They're often in out-of-the way towns far from the coasts and urban centers.
"And honestly, I didn't ever think that we would have a successful profitable business," Elizabeth Finkelstein added. But the Cheap Old Houses brand has definitely struck a chord, especially with viewers who want a break from reality. Particularly with the Cheap Old Houses Abroad newsletter, "people constantly write to us and they're like, 'Oh my god, this is like the catharsis I need during my work,'" she said.
'There's so much housing stock in this country'
Around the time the Finkelsteins launched the Instagram account, they also decided to move into the fixer-upper near the Vermont border. They purchased the $71,000 home with cash.
Others in the book, and elsewhere, have used loans to finance their homes, or their renovations, the Finkelsteins added. 
Ultimately, their ability to surface these old homes to their audience has attracted a large following because it shows it's possible to live the dream of lovingly restoring and building your own, beautiful, historic home, the Finkelsteins said.
"What this book really ultimately is about, is escapism and that's a theme that has been with cheap old houses from when we started it," Elizabeth Finkelstein said.
Plus, it helps old abandoned historic homes find new homeowners who wouldn't necessarily consider that particular city or town, they said.
"Near where we live, there are towns that are literally just abandoned," Elizabeth Finkelstein said. "These houses are just empty. There's so much housing stock in this country and how this feed has personally opened our own eyes to these places."