Mark Zuckerberg and Elon Musk are reportedly planning to square off in a physical cage match, but the tech titans have been facing off financially for years already.
Read more: Elon Musk and Mark Zuckerberg challenge each other to a cage fight
In light of that potential showdown, MarketWatch has taken the opportunity to take a more lighthearted look at how the tech leaders compare in the eyes of the market. And if the performances of Meta Platforms Inc.
META,
+1.35%
and Tesla Inc. shares
TSLA,
-3.03%
are any indication, Zuckerberg would beat Musk in a battle that resembles a sprint, but Musk would leave Zuck in the dust in a marathon duel.
Meta's stock has run up 138% year to date, with one mild correction in February, while Tesla shares have climbed 111% in that period, suffering a 2½-month slump in the middle of the race.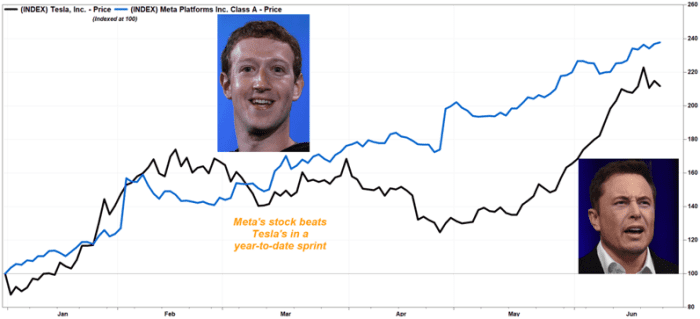 But over the long haul, Tesla wins big.
Since Meta went public on May 18, 2012 — when it was still known on Wall Street as Facebook — the stock has gone up about 650%. Over the same period, however, Tesla's stock has rocketed 14,096%.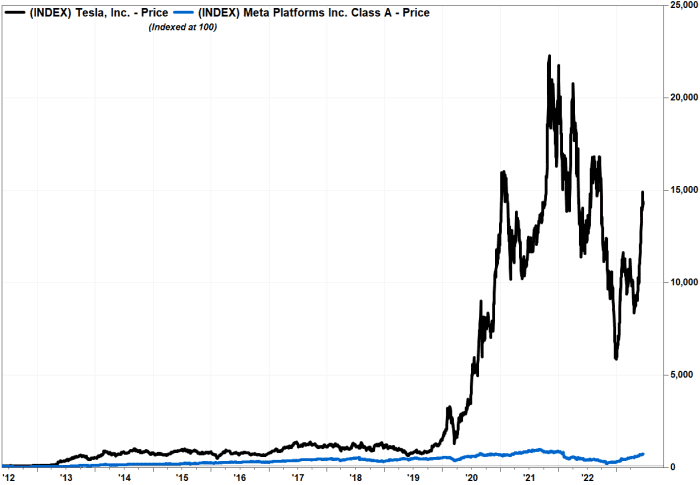 But the battle between Musk and Zuckerberg isn't all about stock performance. It's unclear if or when the tech luminaries will actually duke it out physically, but if Musk starts feeling nervous, he may be able to lean on his substantially higher net worth to hire the best training team money can buy.
Musk is richer than Zuckerberg
The Tesla CEO and Twitter owner was atop the Bloomberg Billionaires Index with a $236 billion net worth as of Thursday, and he's seen that total balloon by almost $100 billion this year alone. Of course, Zuckerberg is no slouch, clocking in at No. 10 on the list with a $104 billion net worth, $58 billion or so of which he has added thus far in 2023.
But Tesla investors probably wouldn't be too happy if Musk tapped into his position in the electric-car maker to pay for personal training — at least judging by how Wall Street reacted when Musk had to sell some Tesla shares late last year to help finance his $44 billion purchase of Twitter.
Musk's stake in Tesla dwarfs what Zuck owns of Meta
Musk owns a nearly 13% stake in Tesla, amounting to 411 million shares, according to data provided by FactSet. Zuckerberg has a much smaller position in Meta, at about 832,000 shares, or 0.4% of what's outstanding, according to FactSet.
At current stock prices, Musk's stake in Tesla is worth roughly $107.5 billion, while Zuck's Meta shares are worth roughly $240 million.
Zuck is much more charitable than Musk
Both Zuckerberg and Musk have declared their intentions to be philanthropists by signing the Giving Pledge, the public promise that some billionaires have made to give away most of their wealth either in their lifetimes or in their wills.
However, Zuckerberg has edged out Musk when it comes to actually giving away money. Forbes magazine in 2022 gave Zuck a 3 out of 5 score for his philanthropy, noting that he and his wife Priscilla Chan have given away between 5% and 9.99% of their fortune. Musk, on the other hand, received a score of 1, because he's given away less than 1% of his wealth.
See also: Elon Musk joins long list of billionaires who've said giving away money is hard — including Andrew Carnegie
Musk's Tesla invests better
When it comes to the fighters' companies, Musk's Tesla has been a much better investor than Zuck's Meta.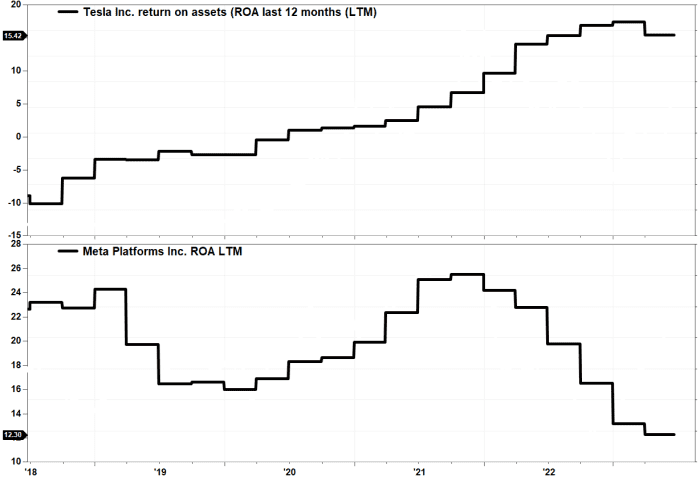 Over the past five years, on a quarterly basis, Tesla's return on assets (ROA), which is a measure of how a company has invested its assets to produce profit, has climbed steadily from about a negative 9% over the last 12 months to above 15% over the last quarter, according to FactSet data.
Meta's ROA, on the other hand, has dropped to just above 12% from above 23% five years ago.
Over the same time, Tesla's stock has climbed 1,065%, while Meta shares have gone up 42%. In comparison, the S&P 500
SPX,
-0.77%
has advanced 58% over the same time period.
Wall Street analysts favor Zuck over Musk
If it were up to Wall Street analysts, Zuckerberg would be favored over Musk.
Of the 60 analysts surveyed by FactSet who cover Meta, 47, or 78%, are bullish, 9 are neutral and only 4 are bearish.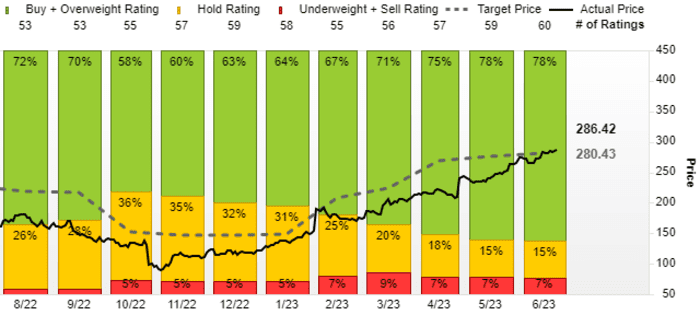 But of the 46 analysts who cover Tesla, just 21, or 46%, are bullish, 19 are neutral and 6 are bearish.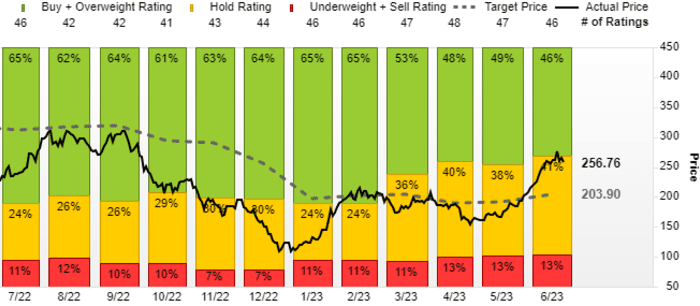 In terms of stock-price targets, the average analyst target for Meta is $280.43, or about 3% below current levels. For Tesla, the average target of $203.90 is roughly 20% below current prices.